RENEE VAN BAVEL – THE MIRROR OF PEACE
THE MIRROR OF PEACE is a spatial work of art that invites the viewer to have their personal experience with peace: The viewers see themselves full size reflected and read a text saying: "This is what people living in peace look like." It becomes instantly clear that a life lived in peace cannot be taken for granted, and that we must act consciously—every day—to preserve this peace.
THE MIRROR OF PEACE @ BIENNALE ARTE VENICE 2022
This summer, THE MIRROR OF PEACE will be presented at the Biennale Arte in Venice.
The presentation of Renee van Bavel and THE MIRROR OF PEACE on the occasion of the Biennale Arte 2022 in Venice is a project of The Draiflessen Collection in collaboration with Abbazia di San Giorgio Maggiore – Benedicti Claustra Onlus.
The opening of THE MIRROR OF PEACE at the Biennale Arte in Venice will take place on 21 May 2022 and can be viewed in the monastery garden of the Abbazia San Giorgio Maggiore till 15 October 2022.

From 10 a.m.-6 p.m. / closed on Wednesdays.
FREE ADMISSION.

To visit THE MIRROR OF PEACE take the VAPORETTO WATERBUS linea 2 / fermata San Giorgio line 2 and get of at: San Giorgio stop.
#Share your moment of peace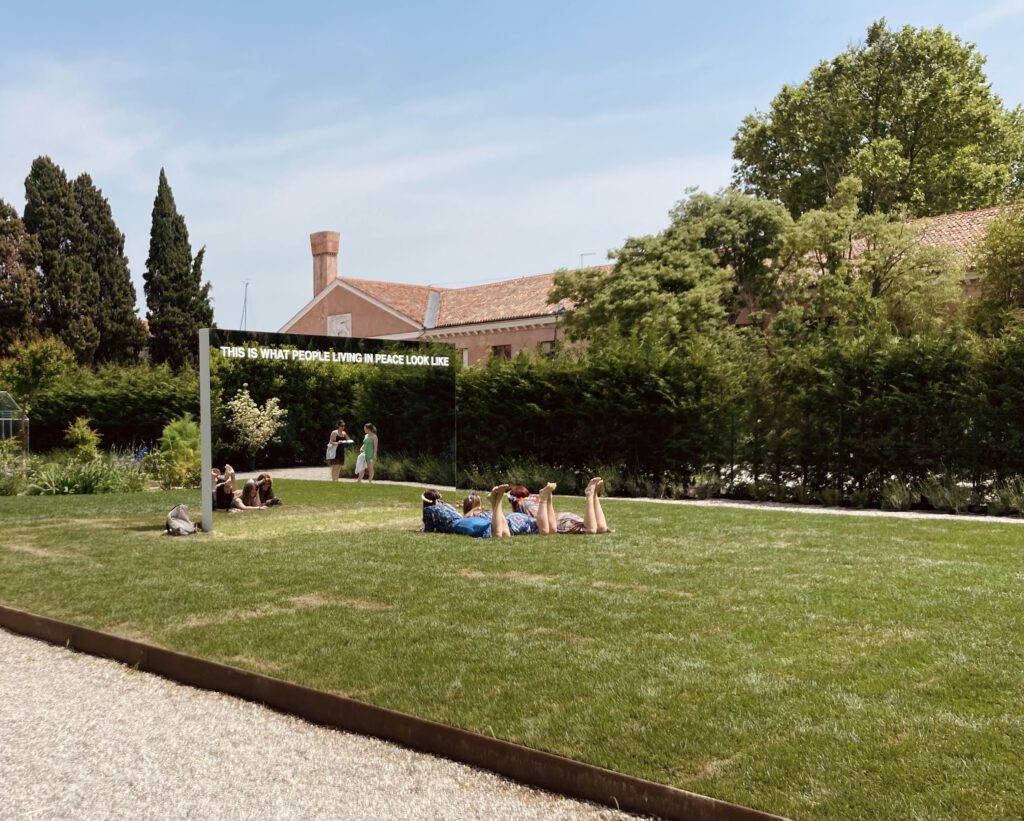 "Through my work for various memorial sites and foundations in Germany and the Netherlands, I have met many people for whom the words war and peace have a vivid meaning. These encounters have made me very aware that I live in peace and that this should not be taken for granted. This process has ignited a fire in me to share this "peace consciousness" with the public. Not by explaining it, but by creating a form that enables people to experience it for themselves. That is THE MIRROR OF PEACE.
It is my intention to place more versions of THE MIRROR OF PEACE , in different languages, in different countries around the world in order to create awareness: Peace can not be taken for granted."
RENEE VAN BAVEL